What is the Spot Price of Silver?
When people refer to the silver spot price, or the spot price of any metal for that matter, they are referring to the price at which the metal may be exchanged and delivered upon now.  In other words, the spot price is the price at which silver is currently trading. Spot prices are often referred to in the silver and gold markets, as well as crude oil and other commodities. Price is in a constant state of discovery and is watched by banks, financial institutions, dealers and retail investors.
All of the products on our website are priced based on a premium to spot price, and therefore you will notice that prices update every few seconds during market hours. This allows customers to invest based on the most up to date market conditions possible.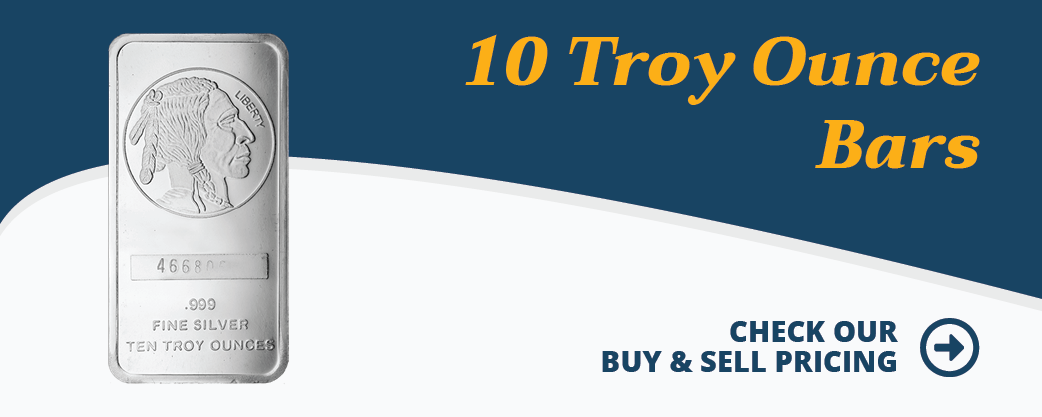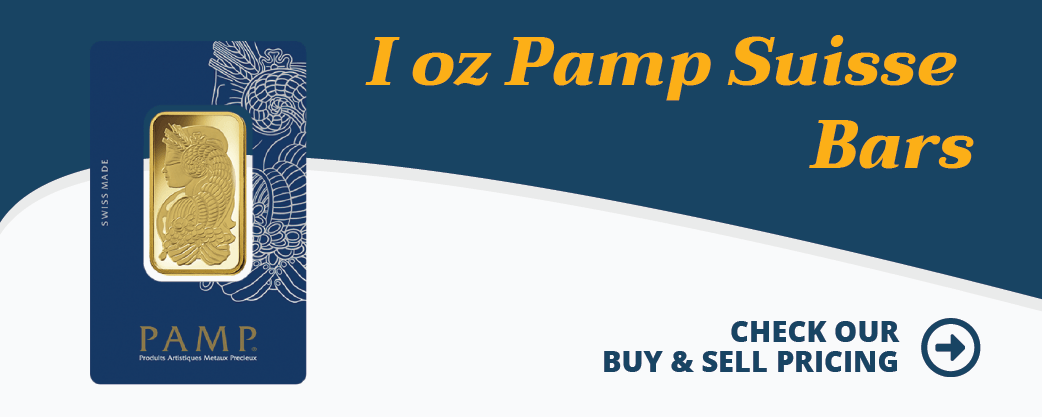 Looking to Buy or Sell this Product?
VIEW OUR WIDE SELECTION OF COINS ON EBAY!
We sell All Rare / Collectibles, Coins , Currency & Stamps Please add us to your list of favorite sellers and visit our inventory often we try to add new items weekly.
Transparent Buying And Selling
All Bullion Buy prices are based on Brilliant Uncirculated Condition (No scratches or Blemishes)
| | Weight | ASW / AGW | Bullion Type | Description | Buy Price | Sell Price | Silver Spot | Gold Spot |
| --- | --- | --- | --- | --- | --- | --- | --- | --- |
| | | | | | | | $14.13 | $1,633.55 |
| | | | | 480 Grains = 1 ounce | Buy Price | Sell Price | | |
| | | 1 | Silver ounce | 1 Troy Ounce Silver | $13.71 | $14.98 | | |
| | | 1 | Silver Eagle | 1 Troy Ounce Silver Eagle | $14.55 | $16.53 | | |
| | | 10 | 10 Troy | 10 Troy Ounce Bars | $137.06 | $151.19 | | |
| | | 100 | 100 Troy | 100 Troy Ounce Bars | $1,370.61 | $1,511.91 | | |
| | | 32.15 | Kilo | 32.15 Troy = 1 Kilo | $440.65 | $486.08 | | |
| | | 500 | CASE 1 OZ SILVER | 1 case of 500 silver rounds | $6,853.05 | $7,264.23 | | |
| | | 500 | CASE OF SILVER EAGLES | 1 case of 500 silver Eagles (Monster Box) | $6,853.05 | $8,195.40 | | |
| | | | | | | | | |
| | | | | | Buy Price | Sell Price | | |
| | | | Sold by Pound | copper pennies weigh $1.45 per pound = 95% pure | 50 for .60 | .05 each | | |
| | | 6% | Buy/Sold Each | WAR 5 cents = .05626 / each | $0.47 | $0.99 | | |
| | | 15% | Buy/Sold Each | 40% HALVES = .14792 / each | $0.95 | $2.48 | | |
| | | 72% | Buy/Sold by Face Value | 90% Silver / multiply total face by .7150 = troy ounces | $8.65 | $11.70 | | |
| | | 92.50% | buy/Sold by Troy Ounce | Sterling Silver per troy ounce | $9.80 | $13.72 | | |
| | | | | | | | | |
| | Weight | ASW | Bullion Type | MEXICO Silver | Buy Price | Sell Price | Silver Spot | Gold Spot |
| | | | | | | | $14.13 | $1,633.55 |
| | 5 | 0.13 | 20 Centavos | 1905-1914 Twenty Centavos (80%) | $1.29 | Contact | | |
| | 3.65 | 0.0932 | 20 Centavos | 1919 Twenty Centavos (80%) | $0.92 | Contact | | |
| | 3.33 | 0.0321 | 25 Centavos | 1950-1953 Twenty Five Centavos (30%) | $0.23 | Contact | | |
| | 12.5 | 0.3215 | Fift Centavos | 1905-1918 Fifty Centavos (30%) | $1.14 | Contact | | |
| | 9.06 | 0.2334 | Fift Centavos | 1918/7-1919 Fifty Centavos (80%) | $2.31 | Contact | | |
| | 8.33 | 0.1929 | Fift Centavos | 1919-1945 Fifty Centavos (72%) | $1.91 | Contact | | |
| | 7.97 | 0.1077 | Fift Centavos | 1935 Fifty Centavos (42%) | $0.38 | Contact | | |
| | 6.66 | 0.0642 | Fift Centavos | 1950-1951 Fifty Centavos (30%) | $0.23 | Contact | | |
| | 27.07 | 0.7859 | Peso | 1910-1914 Peso (90.3%) Rare 1914 | $7.77 | Contact | | |
| | 16.66 | 0.3856 | Peso | 1920-1945 Peso (72%) | $3.81 | Contact | | |
| | 14 | 0.225 | Peso | 1947-1949 Peso (50%) | $1.59 | Contact | | |
| | 13.33 | 0.1286 | Peso | 1950 Peso (30%) | $0.45 | Contact | | |
| | 16 | 0.0514 | Peso | 1957-1967 Peso (10%) | $0.07 | Contact | | |
| | 30 | 0.8681 | Five Pesos | 1947-1948 Five Pesos (90%) | $8.59 | Contact | | |
| | 27.78 | 0.6431 | Five Pesos | 1950-1954 Five Pesos (72%) | $6.36 | Contact | | |
| | 18.05 | 0.4178 | Five Pesos | 1955-1957 Five Pesos (72%) | $4.13 | Contact | | |
| | 18.05 | 0.4178 | Five Pesos | 1959 Five Pesos (72%) | $4.13 | Contact | | |
| | 28.89 | 0.8357 | Ten Pesos | 1955-1960 Ten Pesos (90%) | $8.27 | Contact | | |
| | 22.5 | 0.5209 | 25 Pesos | 1968 Twenty Five Pesos (72%) | $5.15 | Contact | | |
| | 22.5 | 0.5209 | 25 Pesos | 1972 Twenty Five Pesos (72%) | $5.15 | Contact | | |
| | 27.77 | 0.6429 | 100 Pesos | 1977-1979 100 Pesos (72%) | $6.36 | Contact | | |
| | | | | | | | | |
| | | AGW | | Gold | Buy Price | Sell Price | Silver Spot | Gold Spot |
| | | | | | | | $14.13 | $1,633.55 |
| | | 0.1 | | Maple ,Gold Krugerand, Foreign Etc. 1/10 Ounce | $160.09 | $179.69 | | |
| | | 0.25 | | Maple, Gold Krugerand, Foreign Etc. 1/4 Ounce | $400.22 | $449.23 | | |
| | | 0.5 | | Maple, Gold Krugerand, Foreign Etc. 1/2 Ounce | $800.44 | $882.12 | | |
| | | 1 | | Maple, Gold Krugerand, Foreign Etc. 1 Troy Oz Ounce | $1,600.88 | $1,690.72 | | |
| | | 1 | | I oz Pamp Suisse Bars | $1,584.54 | $1,690.72 | | |
| | | $0.20 | | 5 Gram Pamp Suisse Bars | $316.91 | $338.14 | | |
| | | | | | | | | |
| | Weight | AGW | Coin Type | United States | Buy Price | Sell Price | Silver Spot | Gold Spot |
| | | | | | | | $14.13 | $1,633.55 |
| | | | | American Gold Eagles 1986 - Date .9167 gold.03 silver,.0533 copper | | | | |
| | 3.39 | 0.1 | $5.00 | American Eagle 1986 to date 1/10 Ounce 16 mm | $160.09 | $179.69 | | |
| | 8.48 | 0.25 | $10.00 | American Eagle 1986 to date 1/4 Ounce 22 mm | $400.22 | $449.23 | | |
| | 16.96 | 0.5 | $25.00 | American Eagle 1986 to date 1/2 Ounce 27 mm | $800.44 | $882.12 | | |
| | 33.93 | 1 | $50.00 | American Eagle 1986 to date 1 Troy Ounce 32.7mm | $1,633.55 | $1,698.89 | | |
| | | | | American Gold Buffalo 2008 - Date .9999 Fine | | | | |
| | 3.11 | 0.1 | $5.00 | American Buffalo Pure Gold 1/10 Ounce 16.5mm | Contact | Contact | | |
| | 7.77 | 0.25 | $10.00 | American Buffalo Pure Gold 1/4 Ounce 22mm | Contact | Contact | | |
| | 15.55 | 0.5 | $25.00 | American Buffalo Pure Gold 1/2 Ounce 27mm | Contact | Contact | | |
| | 31.103 | 1 | $50.00 | American Buffalo Pure Gold 1 Ounce 32.7mm | Contact | Contact | | |
| | | | | | | | | |
| | | Karat | Grams per troy ounce | | | | Silver Spot | Gold Spot |
| | | | | | | | $14.13 | $1,633.55 |
| | | 41.70% | 31.103 | 10 KT SCRAP .417 | $18.29 | $23.00 | | |
| | | 58.30% | 31.103 | 14 KT SCRAP .585 | $25.57 | $32.15 | | |
| | | 75.00% | 31.103 | 18 KT SCRAP .750 | $32.89 | $41.36 | | |
| | | 91.30% | 31.103 | 22 KT SCRAP .916 | $40.04 | $50.35 | | |
| | | 100.00% | 31.103 | 24 KT SCRAP .999 | $43.85 | $55.15 | | |
| | | | | | | | | |
| | Weight | AGW | | United States | Buy Price | Sell Price | Silver Spot | Gold Spot |
| | | | | | | | $14.13 | $1,633.55 |
| | 1.672 | 0.04837 | $1.00 | All types Liberty & Princess Head 1849-1889 .900 | Contact | Contact | | |
| | 4.37 | 0.0833 | $2.50 | Capped Bust Right/Left/LG/Reduced (1796-1834).900 | Contact | Contact | | |
| | 4.18 | 0.1008 | $2.50 | Classic (1834-1839) Liberty Head (1840-1907).900 | Contact | Contact | | |
| | 4.18 | 0.12094 | $2.50 | Indian Head (1908-1929) .900 | Contact | Contact | | |
| | 5.015 | 0.14512 | $3.00 | Indian Princess Head (1854-1889) .900 | Contact | Contact | | |
| | 5.015 | 0.1451 | $4.00 | Stella (1879-1880) | Contact | Contact | | |
| | 8.35 | 0.242 | $5.00 | 1839-1929 .900 total .27oz / gold .24oz | $375.32 | $442.76 | | |
| | 16.71 | 0.4839 | $10.00 | 1838-1933 .900 total .54oz / gold .48oz | $770.47 | $853.71 | | |
| | 33.43 | 0.9677 | $20.00 | 1850-1933 .900 total 1.07oz / gold .97oz | $1,549.17 | $1,691.44 | | |
| | | | | | | | | |
| | Weight | AGW | Coin Type | MEXICO Gold | Buy Price | Sell Price | Silver Spot | Gold Spot |
| | | | | | | | $14.13 | $1,633.55 |
| | 1.666 | 0.0482 | 2 Peso | 1919-1947 (1948 specimen) .900 / 13mm Gold .04 Troy Ounce | $70.86 | $90.55 | | |
| | 2.0833 | 0.0603 | 2.5 Peso | 1918-1948 .900 / 15.5 mm Gold .06 Troy Ounce | $89.64 | $110.32 | | |
| | 4.1666 | 0.1205 | 5 Peso | 1905-1955 .900 / 19mm Gold .12 Troy Ounce | $181.10 | $216.53 | | |
| | 8.333 | 0.2411 | 10 Peso | 1905-1959 .900 / 22.5mm Gold.24 Troy Ounce | $366.28 | $425.36 | | |
| | 16.666 | 0.4823 | 20 Peso | 1917-1959 .900 / 27.5mm Gold .48 Troy Ounce | $740.59 | $835.13 | | |
| | 41.666 | 1.2057 | 50 Peso | 1921-1947 .900 / 37mm Gold 1.2 Troy Ounce | $1,910.48 | $2,048.35 | | |